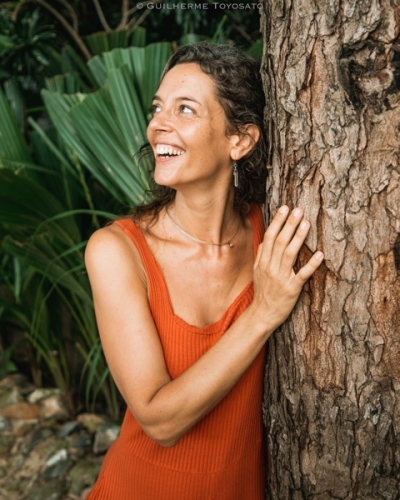 Marie Close
Thanks to university studies in Social Communications (IHECS, Brussels), with a specialisation in photography, I develop in my dance an aesthetic and sensitive vision while drawing from the depths of the dancer that which can be revealed to the world. As a traveler in the soul, I move around the globe and harvest rituals and shamanic practices that support my artistic work.
Dance transforms me. It connects me to my sensitivity, my intuition and my power. I have been dancing since the age of 5 when I was already stage managing for children. The love story I entertain with dance reminds me every day that my body absorbs experiences to put them in movement.
Read more
Trained in the Life/Art Process® with Anna Halprin in California, I use this practice for creation and transmission. I feel guided by the work of performance in nature of Anna Halprin, by psychomagic and the links art-spirituality of Alejandro Jorodovsky, and by the metaphorical, raw and living staging of Pina Baush. I am inspired by researches done alongside Soto Hoffman, Jules Beckman, Mark Tompkins, Dominic Duszynski, Julyan Hamilton, Thomas Hauert.
Recently created: ROOTS and The White Page the World is about to Write, performances in nature (2017) / When I see Green, video-dance (2016) / De mainS..., toddler's play (2015) / Entre les mailles du fil et…, trio dance-theater performance in public space (2014) / Poésie de l'instant, performance with plastic artworks at BOZAR (2013) / Seguir la Estrella del Sur, radio creation of a journey, art as a transformation movement in Latin America (2011).
I am currently interested in the topic of ROOTS, taught in Marseille, Brussels, Ibiza, Rio de Janeiro and Salvador de Bahia (BR) in studio and in nature.
Graduate: 2017 Theta Healing (Advanced) / 2016 Thai Yoga Massage (Advanced) / 2013-2016 Expressive art and Life/Art Process® Practitioner -Tamalpa Institute taught by Anne Halprin, Soto Hoffman, Dohee Lee, Ken Otter, Daria Halprin: The Art of Scoring and Expressive Art, California / 2012 Bartenieff Fundamentals, A. Loureiro / 2012 Art for toddlers, participation Festivals for tolders in Reims, Montreal, Charleroi / 2006-2010 Laban - kinesiology adapted to dance, MC Wavreille, Co. Kairos / 2009 Reiki (Advanced) / 2004-2007 International Cooperation, creation of projects and teaching tools / 1997-2001 Master in Social and Applied Communications: Socio-cultural animation and popular education, photography specialization, IHECS, Brussels / 1994-1996 Animator Certificate, Youth and Health
Languages ​​spoken: French mother tongue / Bilingual Spanish, English, Portuguese / Good knowledge of Dutch, Italian / Basic knowledge of sign language